One of the first things people notice about you is your smile. We can help you achieve your dream smile with composite bonding.
Cosmetic bonding may be used for a variety of dental conditions, including to fix chips, cracks, discolouration, and gaps.
The Treatment
A Bespoke Smile, hand-crafted
Composite is meticulously sculpted onto your teeth by Alan, ensuring your smile looks completely natural.
After the composite has been moulded on to your teeth, it will be polished to a high shine, completely transforming your smile.
Composite bonding can usually be completed in a single visit, leaving you with amazing results.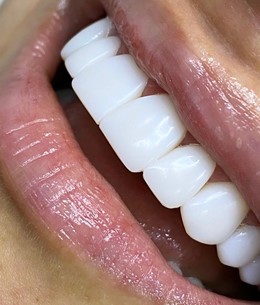 With ceramic veneers we can often achieve a level of cosmetics, which are unparalelled by other treatment techniques.
The colour lasts the lifetime of the veneer, and they don't stain or need re-polishing or finishing either. A long-lasting, perfect smile, with minimal maintenance.
The Treatment
The majority of time, some tooth preparation is required prior to taking the impressions for ceramic veneers. Alan uses a 3-d veneer 'wax up' to create a stent for veneer preparation, to reduce the tooth reduction required to an absolute minimum. The more of your natural tooth preserved the better!
Impressions are then sent to our award winning ceramics lab, where the individual veneers are hand crafted and finished to the highest spec.
You will then return for the big day – the fitting of your new smile!
Invisalign – Teeth Straightening
A beautiful smile can boost your self-esteem, optimism, and even your life…. Invisalign® clear aligners may help you obtain that ideal smile. Invisalign helps to straighten out rotations, crowding or crooked teeth.
The Invisalign system employs no brackets or wires; instead, the aligners are transparent, removable, and pleasant to wear.
The Treatment Process
The first step is to have an initial consultation with Alan, where he will discuss your treatment options. Invisalign is often a great starting point in smile makeovers-which can then be 'finished off' with tooth whitening and composite bonding-to reach that perfect smile.
A series of dental impressions, x-rays, and photographs of your current smile are taken, which is then forwarded to the Invisalign laboratory. A 3-d Clincheck simulation is created to show the projected outcomes of treatment.
The aligners should be worn for at least 22 hours each day to get the best results, and are changed every 2 weeks. 
A seamless process with amazing results.
Smiling is a natural, instinctive expression.
It has positive effects across all aspects of our life. 
If you have stained teeth, it's best to visit a dental professional, who can restore the natural beauty of your smile.
Alan provides teeth whitening treatment to help you achieve a brighter, whiter smile that you can be proud of.
Both home and in-office treatments are available, including the gold standard Enlighten® Tooth Whitening.
 Tooth whitening is a great technique for brightening your teeth, without causing any damage or modifications to the tooth surface.
Dr. Alan Weider understands that there is no such thing as "simple" dentistry.
It's critical to visit your dentist and get regular check-ups and hygienist visits to preserve your oral health.
Alan is proud of his cutting-edge procedures, but he places equal importance on general dentistry treatment.
General dentistry focuses on the prevention of dental problems and promotes oral health and dental hygiene.
A dental crown is a covering for the tooth, which may be required to protect the tooth, or in some cases to restore the appearance of a tooth.
As a patient, you want your fillings and crowns to look natural and unnoticeable.
Alan and his team us the most modern IPS e.max® and Zirconia ceramic crowns to achieve beautiful results, blending in perfectly to the surrounding teeth.
White fillings, also known as composite fillings, are used to restore cavities or decay in your teeth. Composite can also be used to replace old metal fillings, to give your teeth a more natural appearance.
Possessing an intricate knowledge of tooth anatomy, Alan sculpts composite fillings to produce fantastic, natural looking results.